We develop engineering projects for the design, implementation, modernization and adequacy of steel or mining plants, as well as their accessory equipment.
Our solutions are designed for operation in safe and reliable environments, with a focus on sustainable deployment, ensuring investments the best financial return for your project.
The projects are contracted in Turnkey and BOT (Built, Operate and Transfer) packages. MODULAX also sells industrial plants by way of manufacturing, operation and technology transfer, making it possible to operate the built pan, if it is in the customer's interest.
FINANCING
MODULAX PRODUCTS ARE ACCREDITED BY FINAME.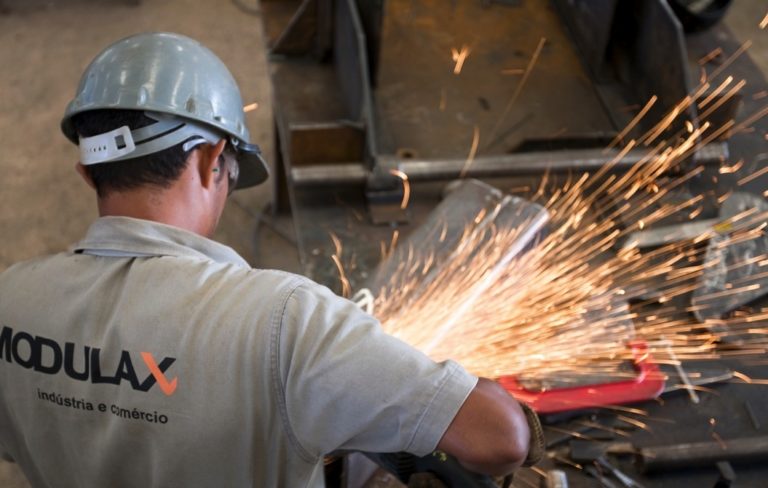 CONSTRUCTION AND
ELECTROMECHANICAL
ASSEMBLY
MODULAX executes electromechanical plans to order, with high degrees of complexity. The projects are commercialized in whole or in part, and our team is able to perform consulting services, planning, manufacturing of panels, and electrical installations, industrial automation processes, supervisory systems, pneumatic network installation, assembly of industrial substations, commissioning, among others. The systems developed by MODULAX are focused on operational effectiveness and risk minimization, guaranteeing quality and safety at all stages of production.
MANUFACTURE
OF STEEL
STRUCTURES
MODULAX designs, manufactures, and assembles steel structures of any size, even meeting high criticality deadlines.
Through the knowledge acquired in enterprises of different complexities, the company presents creative and innovative solutions and guarantees the highest quality in its projects, be they industrial or commercial.
INDUSTRIALIZATION: CREATION OF CUSTOM-MADE PROJECTS
MODULAX creates and develops industrial projects to order, of various sizes and degrees of complexity. Involved in the commitment to promote complete results in all areas of activity, the team of professionals is able to offer integrated actions, from the understanding of the specific needs of each customer, to the delivery of the final product and startup.